What Will iOS 13's Features Mean for Organizations?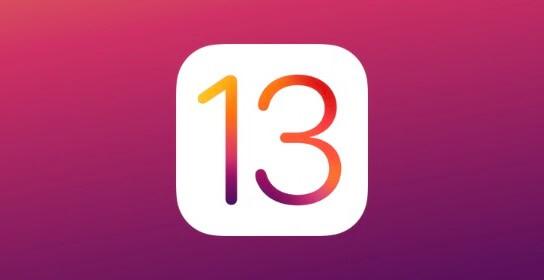 During WWDC 2019, Apple sent waves of excitement through the mobility world when it announced the arrival of iOS 13. Currently available in Beta form for developers and public beta testers ahead of the official launch (believed to be sometime in Fall 2019), the update introduces a number of new and improved interface and useful features intended to boost performance and user experience. Continuing to build on Apple's commitment to data protection, some of the most significant changes announced were related to user security and privacy. Updates to the iPhone's security and privacy features were noticeably lacking in the previous release of iOS 12 so it is interesting to see them introduced now, especially as we begin to feel the impact of recent legislative changes such as GDPR. So let's take a closer look at these new features and what they might mean for enterprise mobility. 
New general features
Dark Mode
One of the most talked about changes to the current iOS is the new 'Dark Mode' feature. This gives users the option to use a darker color scheme for low-light environments to reduce eye-strain and disturbance to others. Users can schedule this feature to automatically turn on and off at certain times. They can also toggle it on/off in the Control Center.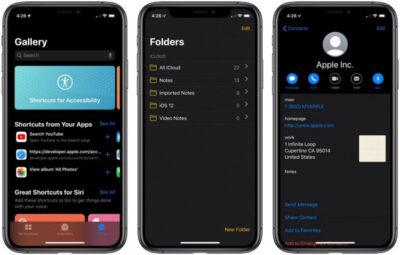 iOS 13's new 'Dark Mode' feature
'Find My' app
'Find My' app is combination of the existing Find My Friends and Find My iPhone apps. the new app allows user to track devices even when they are offline by leveraging bluetooth and other nearby iOS devices.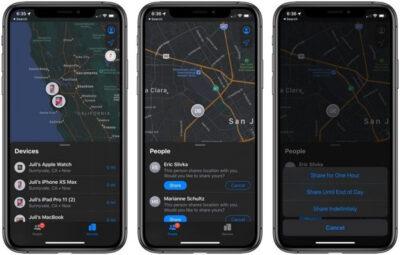 The new 'Find My' app combining Find My iPhone and Find my Friends
FaceTime attention correction 
When enabled, this feature adjusts the set of the users' eyes so that it looks as if they are making eye contact with the person that they are FaceTiming, even when they are looking at the iPhone's screen rather than the camera itself.
QuickPath keyboard
iOS 13 includes a new QuickPath keyboard which will allow users to swipe their finger over letters on the screen order to type.  
Apple Maps 
Apple Maps is undergoing major changes and will include many new and improved features in the new update, including more realistic details, 360 degree and 3D views, favorite locations, junction view for drivers, and real time public transport and flight status information.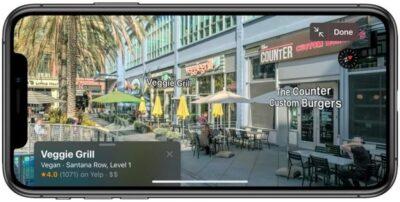 iOS 13's new Look Around feature for Apple Maps
Overall improved performance
iOS is expected to notably improve the overall performance and user experience of the iPhone. Updates will include faster app launches, faster FaceID unlocking, and smaller app updates to improve storage data. Downloads and updates of larger apps will also no longer be restricted to Wi-Fi. 
Security and Privacy features
"Sign in with Apple"
"Sign In with Apple" is the new privacy service that allows users to sign into their online accounts quickly and easily with FaceID or TouchID without the need to fill out forms or create new passwords. Apple have stated that when using this sign in feature, users will never be tracked or profiled and the most information they will ever have to share with an app or website is their name and email address. 
However users will also have the option to hide their email address when signing into a particular app or can choose to have Apple create a random, one-time use email address that then forwards information to their real account.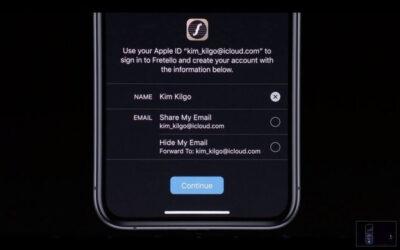 Users will now have the option to use a randomly generated email address instead of their own
Updated location permissions 
iPhone users will now have much greater control over the location data they pass onto apps. The new update will allow users to grant access to their location once or every time they use the app. As well as this, users will now receive an alert when an app is using their location in the background. Users can then decide whether they wish to accept or change their permission settings. Apps will no longer be able to access location data without consent due to API changes and new controls.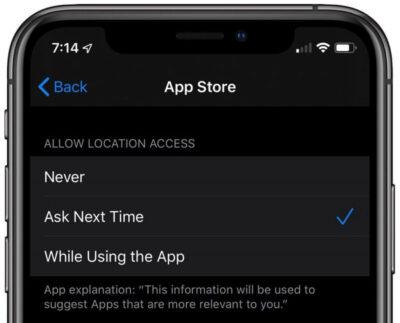 Users can control when to give location permissions to apps
New user enrollment for BYOD
One interesting new feature of iOS 13 is the introduction of a new device management system 'User Enrollment'. Built specifically for BYOD, this new system is similar to Google's Android Enterprise work profile. User Enrollment creates a segmented partition on devices to allow admins to install and manage corporate apps and data. However, it restricts their ability to view, alter or erase any personal data on the device. With this feature enabled, IT admins can push, install, edit and erase any corporate data on employee devices.
What do these updates mean for organizations?
Dark Mode and advanced download speeds are not likely to have a direct effect on companies. However, the iOS 13 updated security and control features are expected to bring significant changes for both individual users and businesses. Concerns over data protection and privacy have escalated rapidly in recent years, especially following the tighter rules and increased standards introduced with legislation like the GDPR. Recently, there have been multiple major data breach cases involving high-profile companies like Google, Facebook and Amazon. Just last week we finally saw the impact of these new regulations when British Airways and the Marriott hotel group were fined £183 million ($228 million) and £99 million ($123 million) respectively following data breaches that saw the personal information of millions of customers stolen by hackers.
For a long time, Apple have been advocates of the protection of data and user privacy. These updates to iOS 13 are encouraging both from the perspective of the individual user and the enterprise. Giving the user more control and limiting the amount of personal data accessed by both Apple and 3rd party companies will assure individuals and companies that their sensitive data is not being collected for nefarious reasons. The new User Enrollment feature will also ensure that IT respect private information personal devices. 
iOS 13 alone is not enough
However, even with these new privacy measures, iPhones can still be vulnerable to mobile threats. In particular, social engineering and phishing attacks that prey on the users themselves. In just the last few months we have seen countless reports of attacks involving malicious apps and messaging services like WhatsApp successfully hacking Apple devices and stealing information. Cyber criminals are constantly developing new methods to circumvent security measures to fool users and collect sensitive data. So, even with these new features, information such as names, email addresses and locations can still be at risk. This is where external security solutions, like Corrata, with robust, always-on endpoint protection are essential. By using advanced machine learning technology, Corrata can detect threats as they arise. Corrata then takes action by blocking access to any malicious sites, fully protecting your iPhone and all your sensitive data. 
To find out more about how Corrata provides robust, comprehensive protection from mobile threats for iOS and Android devices, visit corrata.com or email info@corrata.com.
For more industry news, insights and analysis – follow us on Twitter and LinkedIn!