Network Traffic Inspection
Corrata goes deeper to uncover threats and protect against attacks. We inspect across all ports and every key protocol to detect even the most well hidden malicious activity.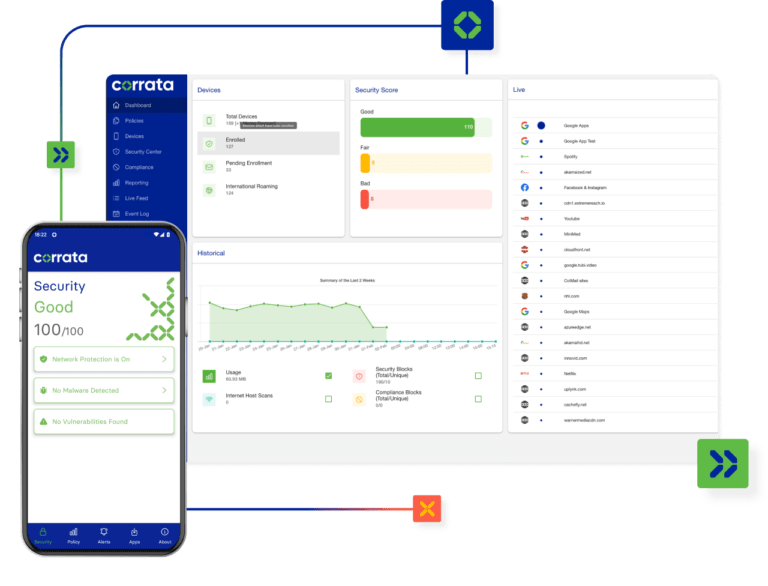 The power of Corrata
Corrata's aim is to go beyond the obvious to defend against mobile attacks.
1

Corrata goes deeper

Corrata's patented on-device technology goes deeper to uncover mobile threats. The Corrata app observes thousands of data points on each device each day: device configurations, app hashes, app permissions, domain and server names, IP addresses, port numbers and SSL Certificate metadata and more. This unparalleled visibility allows Corrata to provide better protection against phishing, malware and network attacks.

2

Corrata provides more powerful protection

Because Corrata goes deeper it offers a wider range of ways to protect against mobile threats. Individual or ranges of domains, servers, port numbers and IP addresses can be blocked. Traffic from unfriendly regions can be restricted. The use of unauthorized cloud services can be prevented. Devices can be quarantined, users prompted to remove harmful apps and alerted to dangerous or risky sites.

3

All without impacting performance or privacy

Corrata pioneered on-device traffic inspection as the most effective and most privacy sensitive way to protect mobile devices from cyberattacks. As the leader in its field, Corrata delivers the best protection combined with market leading performance from a battery, user experience and throughput perspective. And all without the need to track employee location, scan files or record browsing history.

Corrata's solution not only provides unprecedented threat prevention but also addresses product shortcomings in its main competitors.
Key features
Competitor comparison
Best in class leverage agile frameworks to provide a robust synopsis.
Features
DNS Filtering

Anti-Virus

IP and Port blocking

Encrypted DNS filtering

AitM protection

Quarantining

Vulnerability management
Leading competitors
Leading competitors do not block all mobile threats.
true

true

false

false

false

false

false
Corrata
Corrata is the only protection that defends against every threat.
true

true

true

true

true

true

true
We're on a mission
We're here to stop every existing and emerging threat to your mobile workforce and business. Explore our Use Cases to find out more about the powerful and proactive protection we provide.