Employee Buy-In
Corrata avoids the privacy pitfalls of competing solutions giving employees the assurance that both company data and their privacy are protected.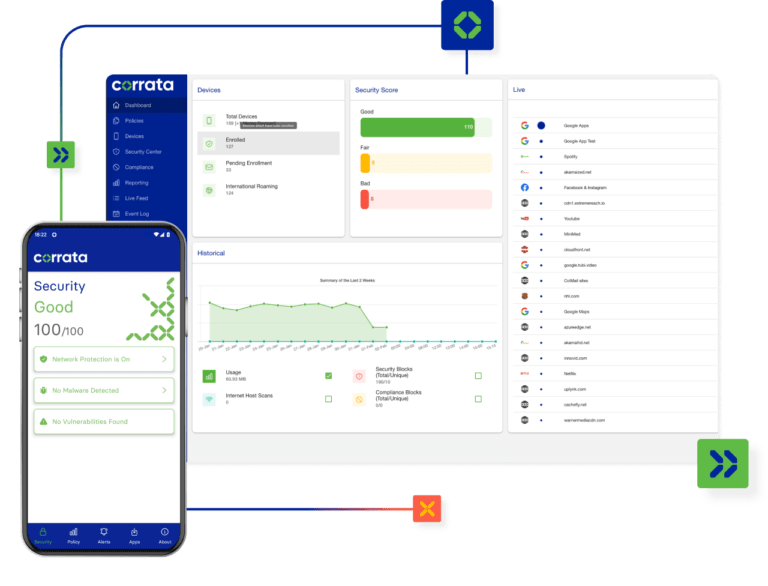 Security not Surveillance
Corrata's unique on-device architecture does away with the need for extensive data collection
1

The On-device advantage

Corrata was founded with the express purpose of delivering superior mobile security without compromising employee privacy. By operating on-device Corrata avoids the need to collect user data to provide security. Corrata's app examines the device settings, traffic and the network environment to identify threats and then takes defensive action based on the organization's tailored security policy.

2

Private and unobtrusive

Once installed, the Corrata app works unobtrusively in the background. Unlike competing solutions it doesn't impact on device performance or interfere in other ways with the normal operation of the phone or tablet. Users receive occasional alerts when security incidents arise or when they need to take action to remediate threats or change insecure settings. An intuitive interface guides employees through the process of removing malware or changing configurations.

3

Zero data collection, zero risk

Legislation such as Europe's GDPR or California's CCPA/CPRA impose significant regulatory burdens on employers. Corrata simplifies compliance with such regulation by avoiding the collection of sensitive personal information such as location and browsing history. A further benefit of this approach is that it makes it easy to get approval from internal compliance teams for the deployment of Corrata within your organization.

Corrata doesn't interfere with the performance of the device, and it only collects security critical data. No personal data is shared.
Key features
Competitor comparison
Best in class leverage agile frameworks to provide a robust synopsis.
Features
DNS Filtering

Anti-Virus

IP and Port blocking

Encrypted DNS filtering

AitM protection

Quarantining

Vulnerability management
Leading competitors
Leading competitors do not block all mobile threats.
true

true

false

false

false

false

false
Corrata
Corrata is the only protection that defends against every threat.
true

true

true

true

true

true

true
We're on a mission
We're here to stop every existing and emerging threat to your mobile workforce and business. Explore our Use Cases to find out more about the powerful and proactive protection we provide.