"Securing Your SMB Customers" Webinar
Securing Your SMB Customers – The Revenue Opportunity for Mobile Operators
"Mobile operators are ideally positioned to bring cyber security to their SMB Customers for a range of reasons; the relationships, the expertise, the way in which small and medium sized businesses procure technology." 
A recent Corrata webinar explored the excellent opportunity for mobile service providers to service the SMB market successfully and meet the cyber-security needs of their customers in a way that is easy for customers to consume. 
Titled 'Securing Your SMB Customers: The Next Revenue Opportunity for Mobile Operators', the webinar was presented by Colm Healy, CEO of Corrata. The virtual event featured guest speakers Tom Rebbeck, Analyst and Partner for Analysys Mason, Ciara O'Reilly, Head of Product for Three Ireland, Suzette McLeod, Head of Marketing for FirstNet built by AT&T, and Dylan Fermoyle, VP Sales for Corrata.
Analysys Mason Research
1) SMB customers want security 
The webinar commenced with Colm Healy outlining the scale of SMB cyber security opportunity. Today it's worth $50 million per annum globally. This is expected to double in size in the next five years.
Colm then handed over to Tom Rebbeck who presented Analysys Mason's 2020 cyber security research findings. The study surveyed over 3,000 SMBs about security and explored their relationship with their mobile operators.  
The first important finding was that 23% of the smallest sized businesses (0-9 employees) feel that they are not satisfactorily protected or are only somewhat protected against cyber threats. Tom explained that this is largely due to not having an IT person in house, "they may not understand the risks or the security products out there and may not know who to turn to."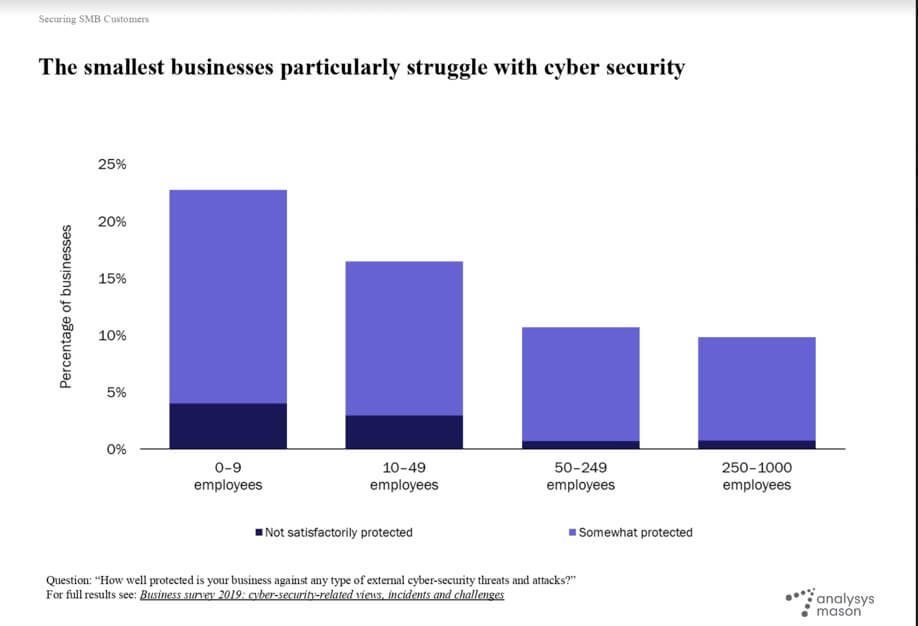 The next important discovery was that 24% of the smallest sized businesses were planning on increasing their security spend. This was even higher (42%) for larger companies (250-1000 employees).
2) Opportunity for mobile operators
Building on this, SMBs of all sizes would consider buying a security solution from their mobile operator, especially if they were satisfied with the basic connectivity offering. In fact, 75% of promoters said that they would buy from their operator. This highlights the importance of building strong relationships with customers to gain credibility and trust.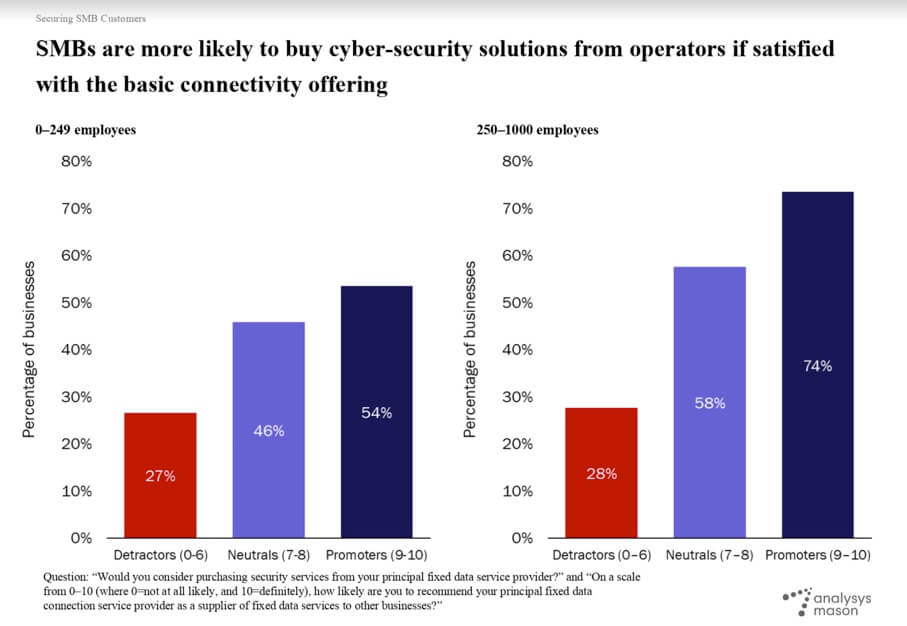 The final part of Analysys Mason's research involved surveying 34 mobile operators. They were asked about their existing security solutions and their planned security portfolios for 2021. While 50% said that they were already selling a mobile endpoint solution, encouragingly, 26% planned on doing so in the next year.  
He outlined that "telecom operators…are credible players in the security space" with a responsibility to secure their own network. He further explained how there is "a really strong link between selling connectivity and selling security" and used the example of fixed operators selling firewalls to reinforce his point. 
3Mobile Protect – Make it simple  
Ciara O'Reilly proceeded by sharing her experience of leading her team to bring 3Mobile Protect powered by Corrata to the Irish market earlier this year. After conducting initial research, it became apparent that security was a real concern for Three's SMB customers. There was a unanimous feeling of "worry", "vulnerability" and "not knowing who to turn to."
Ciara stressed that it was essential that the product was simple for the end user, "you need to make it easy, understandable, consumable and accessible..not only for the management team but also for the end users." 
Equally, she emphasized that the solution needed to be easy to sell. She explained how a fantastic go-to-market launch gave the Three sales team the confidence to successfully sell 3Mobile Protect.
Summing up perfectly, Ciara said that success is fundamentally about "delivering really strong credible products and ensuring that the customer experience is as good as it would be from anyone else who does this as their bread and butter."
FirstNet – Build partner relationships 
The conversation then turned to Suzette McLeod. She started by giving a brief introduction to European and Asian audience members about FirstNet, the first nationwide network for public safety professionals. Built in the US by AT&T, the non commercial network has around 1.7 million connections over 14,000 agencies. After only three years into the project, she impressively stated that almost 80% of the build out is already complete. 
She explained the importance of having a reliable network in emergency situations but equally, having access to "a library of relevant tools" on first responder mobile devices. The 'library of tools' referred to the FirstNet App Ecosystem which vets third party apps through a rigorous review and certification process.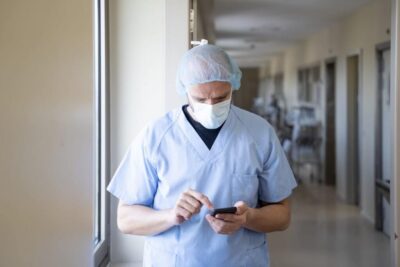 Echoing Tom's words she explained how the majority of these small public agencies would not have an internal IT infrastructure; "Usually the IT person is also the volunteer firefighter". 
She concluded by stressing the importance of building relationships with different partners. First Responders need to be able to trust the applications and solutions found in the App Catalog. This starts with building brand credibility and working closely with third party providers. 
Corrata – Mobilize sales teams 
The conversation then turned to Dylan Fermoyle who spoke about helping Corrata partners to mobilize their sales teams. He stressed how vital it was to remove any obstacles or complexities from the beginning when the product is being spec'd. Mirroring Ciara's words, he explained how important it is that the solution is simple for the sales team to understand. Make it too difficult and they simply won't sell it:
"Sales people are not security experts. You want them going out there and having that basic conversation with a customer around topical issues to get initial interest." 
Continuing, he explained how the product needs to be simple for the customer to deploy and manage. If people have a credit card, they expect that they can get what they want there and then. He expanded by highlighting that a successful solution for SMB shouldn't require a project manager. 
"[With Corrata] you've moved the customer, who had a requirement for security, to actually being secured in less than 24 hours."
Wrap up – Panel's top tips 
Closing the session, Colm Healy asked the panel to share their top tips with anyone looking to launch a mobile security solution to their SMB customers.
"Security can be daunting…make sure your sales team are comfortable with [one solution] and then move onto the next one. You don't need to start with a portfolio of 20 security products from day one." – Tom Rebbeck 
"Keep the customer front of mind…understand what their challenges are…[you're] not just selling something…[you're] helping them." – Ciara O'Reilly 
"Make the message as simple as possible. Have a tight relationship with the sales team, and ultimately, the customer." – Suzette McLeod 
Key takeaways 
Both Analysys Mason's research and the panel's insights highlight the scale of the opportunity for mobile operators to sell cyber to their small and medium sized customers. The market is continuously growing, SMBs are actively seeking mobile security and they are happy to buy from their operator. 
So, what are you waiting for? Start building those customer relationships, mobilize your sales team and, most importantly, when selecting a security product, make it simple. 
If you are a mobile operator interested in learning more about Corrata's partnership opportunities please email dylan.fermoyle@corrata.com
You can watch the full webinar below.