Corrata Wins Irish Round of Tech Rocketship Awards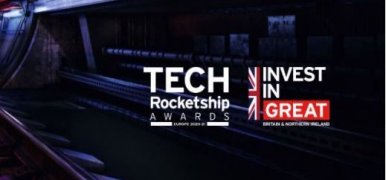 Corrata will represent Ireland at the Tech Rocketship Awards in 2021
Corrata are delighted to announce that we have Corrata along with Sedicci and Spire Solutions at the Tech Rocketship Awards taking place in 2021.
The first round of the competition took place virtually on Wednesday 9th December. Corrata also won the Ambassador's Award for Best Pitch on the night.
Sponsored by the UK's Department of International Trade (DIT), the competition scours Europe for the best scale-up companies across the technology sector.
The judges were particularly impressed with Corrata's unique on-device technology – built with privacy in mind, and Corrata's close partnerships with European And US mobile operators to bring mobile security to their SMB customers.
Colm Healy, CEO of Corrata: "We are delighted to be advancing to the European final next year. It reinforces the uniqueness of our patented mobile security solution and highlights the scale of opportunity in the SMB market."
The finals are due to take place in early 2021.