Calculating the cost of your mobile data usage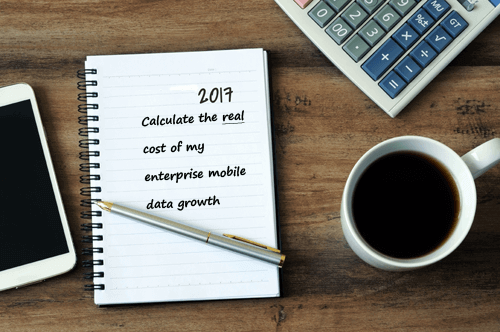 Mobile data usage is exploding. In 2014 for the first time smartphone and wireless internet traffic exceeded fixed internet traffic and by 2020 it will account for two-thirds of total global IP traffic.
According to Cisco, the average monthly data usage in the U.S. was 2.3 GB in 2016. They predict that by 2019 this will have increased to a staggering 25 GB per month. In the same study, Cisco estimated that video will make up 80% of all internet traffic by 2019. Our own research shows that enterprise mobile data use is growing by more than 100% year over year.
How will this affect the enterprise?
It can be difficult for individual organizations to understand how the growth in employee mobile data will impact costs. We at Corrata have analyzed over one million mobile bills and we have an intimate knowledge of the cost of enterprise mobile data. We understand the pricing and tariffing practices of carriers globally and how employee mobile data drives mobile expense.
We have the technology.
To help businesses understand how mobile data growth will impact your specific circumstances we've developed an easy to use online tool. It is a simple calculator that can accurately project your data usage costs over 3 years. Not alone will it give you an accurate estimate of the cost of mobile data but it also demonstrates how enterprise mobility control can deliver savings of 50% or more on your mobile data bill.